Tuesday, October 25, 2011
For anyone who likes stories like "Interview With a Vampire" but found themselves thinking they would love to see a hardcore S.W.A.T. team or some S.E.A.L.'s come in and stomp the ever loving darkness from the creatures of darkness, have I found the perfect book series for you.
When I got this book in hand, I nearly became a zombie myself as I would hardly put it down. Fortunately I managed to read through it so fast that my family, and personal hygiene, were only minimally impacted.
The official description is:
Five days after Owen Zastava Pitt pushed his insufferable boss out of a fourteenth story window, he woke up in the hospital with a scarred face, an unbelievable memory, and a job offer.

It turns out that monsters are real. All the things from myth, legend, and B-movies are out there, waiting in the shadows. Officially secret, some of them are evil, and some are just hungry. On the other side are the people who kill monsters for a living. Monster Hunter International is the premier eradication company in the business. And now Owen is their newest recruit.

It's actually a pretty sweet gig, except for one little problem. An ancient entity known as the Cursed One has returned to settle a centuries old vendetta. Should the Cursed One succeed, it means the end of the world, and MHI is the only thing standing in his way. With the clock ticking towards Armageddon, Owen finds himself trapped between legions of undead minions, belligerent federal agents, a cryptic ghost who has taken up residence inside his head, and the cursed family of the woman he loves.

Business is good . . .

Welcome to Monster Hunter International.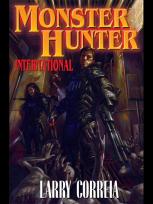 If you like nearly non-stop action, dark humor, guns (lots of guns), or just plain prefer to see evil creatures of fiction being put down like the dogs they are, instead of romanticized and made to "sparkle" as is the common theme in recent years, you should absolutely love this book and series as much as I did.
I made the mistake of loaning my first copy out to a friend who lost it without ever even getting around to reading it so have subsequently re-purchased it when ordering the third book in the series as I know I will be re-reading this series till the pages simply crumble to dust like a Vampire in the sunlight.
Then I'll get an e-book version of course ;)